Erin over at Learning to Be Awesome put together a fabulous product swap.
I was able to swap with Georgina of
Teach and Tell Us
. I chose her
2D & 3 D Shape Posters
because we are currently working on our geometry unit, and I thought they would fit in perfectly!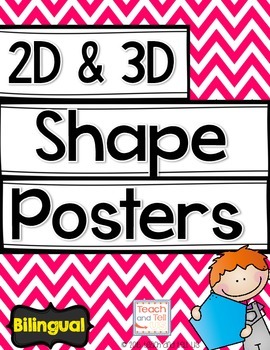 Here is a view of the posters I have displayed right now. Sorry about the glare from the laminate!
I am putting up the shapes as we learn about them. You could also just have them up as a display all year long if you preferred.
I also love that they are in English and Spanish! I don't have a large ELL population this year, but they will be great for that if I do in the future. This year they were perfect because of a comment a student had made during our morning meeting. We have a portion where the students tell me their concerns if they have any. These are usually things such as the pencil sharpener isn't working or the water fountain is leaking, etc. One day a student said, "I am concerned that we aren't learning Spanish." He was so excited when he saw these posters hanging on the wall! Now we are learning our geometric terms in English and Spanish!
My students absolutely loved their little faces. When we started talking about what attributes the shapes had one of them said, "They have cute little faces!" I have to agree!
Do you have geometric shapes on display in your classroom?