If you missed our previous chapters, you can find them here:
Today our guest host is Laura from
Luv My Kinders!
Head on over to read her take on chapter 3 and to enter to win a $20 Amazon Gift Card!
My take on chapter 3:
Do you ever feel like your to do list is scattered everywhere with scattered post-its, random lists, and stacks of papers to go through? Yeah, me too, which is why I love that Maia has suggestions for us to corral our to-dos!
She says the first thing you need to do is create an Upcoming To-Do List which is a long-term, sorted list of all of your to-dos. Throughout the chapter she gives various suggestions and ideas for how to create this to-do list from a list organized by month in Word to a more traditional to-do list in Excel. Once you have determined the best method for you, she gives you different ways to use your upcoming to-do list with examples for:
* Stuff we need to do eventually, but don't have the mind space to deal with now (PD book suggestions from your principal)
* Stuff we need to do that needs a longer lead time (think big projects)
* Stuff you may want to do someday but you can't assign it a month right now (reorganizing your classroom library - as long as its not a hot mess on the floor).
Just like previous chapters, I love how she shares real world examples from other teachers at all levels.
So time to get started, slog through those post-its and get everything out of your head, and down on paper! If you are following along with us, please link up or comment below. If you don't have the book yet, you can order it on Amazon, or win a gift certificate to purchase it! Enter below!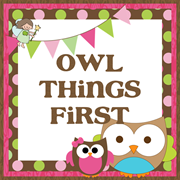 Don't forget to visit next week's host, Jenny from
Owl Things First.