Time for another chapter from our book study of
The Together Teacher by Maia Heyck-Merlin
. If you missed the previous chapters, you can find them here: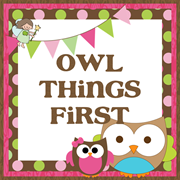 Today our guest host is Jenny from
Owl Things First.
Head on over to see her take on chapter 4 and to enter to win a $20 Amazon gift card - perfect for buying those back to school organizational must haves! In addition the winner will also win a set of stuffed elephants which will be perfect for classroom decor! Even my older students love reading with a buddy!
My thoughts on chapter 4
As teachers, we have a million things a day coming at us from all directions! Things we need to remember to do, things we need to remember to tell others (principal, school secretary, parents, etc.), things we need to copy, things we need to grade, and on and on and on!
Maia's solution to keeping it all together is through the use of a thought catcher. It can be something as simple as a piece of paper divided into fours, or as complex as an electronic notepad or file for each section of our lives.
Prior to reading this book, my thoughts were often scattered everywhere - on sticky notes, scrawled on my calendar, scribbled in a notebook, or just swimming around my head. The big problem with this is I can't always find these notes when I need them, or even worse, I forget about them altogether!
With thought catchers kept in your planner, you can keep track of them in one place! You can set up your thought catchers by action (i.e. emails to send, calls to make, items to copy, etc), and or by person (principal, spouse, teammate, etc.).
You can find some free thought catcher forms on Maia's website here.
You will have to register for the site to access them, but registration is free.
If you are following along with us, be sure to link up below!