This is the last chapter for our book study on
100 Minutes
by Lisa Donohue. Even though it is the last chapter, I will definitely be going back and re-reading it as I make my plans for next year. This is also one of those books that you will find yourself going back through each year.
If you missed my previous posts you can find them below:
Chapter 1
Chapter 2
Chapter 3
Chapter 4
Chapter 5
Chapter 6
Chapter 7
Chapter 8
Today I am linking up with Tina from
Croft's Classroom
for Chapter 9.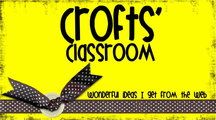 My thoughts on Chapter 9:
This last chapter is all about integrating digital technology and media literacy. Lisa Donohue opens the chapter with the statement that "technology in the classroom should not be considered an add-on." Instead, she says, it should "support and expand students' learning and directly connect to the content and skills that are being taught during other instructional times." (p.139).
As I read this chapter I have reflected on my own use of technology in the classroom. Although I am the only teacher in my grade level without individual ipads or laptops, I have managed to add some technology to many of my lessons.
We have used our Smart Board to brainstorm.
We have made predictions using our Smart Board.
But one thing that my colleagues and I have not always agreed upon (at both my current and former school) is the fact that I allow my students to use their own ipods or cellphones in class (if it is related to the task).
My students are usually very responsible about using them wisely, and if they don't they lose them until the end of the day. I was glad to see that Lisa talked about the BYOD (Bring Your Own Device) movement, because for many of us, we do not have the luxury of 1:1 devices in our own classroom, and this helps even the playing field. I also agree with her points about teaching students to use digital tools responsibly.
She also talked about "Working With What You've Got". Since we don't all live in a dream world where 30 devices per classroom is the norm, we have to make do with the few devices we may have. I have two student computers along with my own computer in the classroom. I also have two ipods and my own personal ipad that I share with my students. Lisa talks about setting aside a tech block during your independent time so that students can have a meaningful amount of time to accomplish a task while using the technology.
She reminds us that regardless of how technology is integrated within your classroom, it should always be intentionally connected to the learning that is happening in other areas, not as a means of busy-work or student entertainment.
I would like to be more thoughtful in the time that I have students using the computers. I have usually used them for research or typing papers, but I would love to develop some projects that center around our curriculum units.
I will definitely continue to use students' own devices in order to increase our resources available.
I am thinking about having boards that are similar to Twitter, Facebook, and Instagram so we can talk about how those resources can be used and how they can be used safely.
I want to think more about how tech time will fit into my literacy block.
How do you use technology in your classroom?