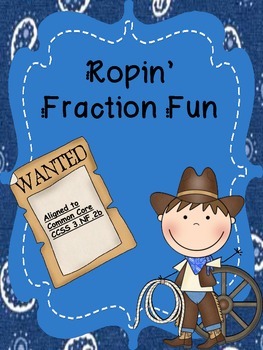 I have been amazingly blessed by all of my followers both here on the blog and also at my
Teachers Pay Teachers
and
Teachers Notebook stores
. I am super close to 300 followers at all 3! I am at 315 on TpT, 298 on Bloglovin and 293 on Teachers Notebook! I will be having a giveaway as soon as I hit the big 300 on all three (if you would like to donate or help with that giveaway let me know). AND.. I have an AMAZING giveaway from Staples coming your way this Thursday! But... I also wanted to give back a little sooner (and to all of my followers). I have decided I will be posting freebies twice a week - On Mondays and Fridays. Be sure to
follow on Bloglovin
so you won't miss any freebies!
So, without further ado.. my first freebie is this fun and adorable Ropin' Fraction Fun Freebie!
Your students will race to find the matching fractions in this cooperative learning game with a fun cowboy theme. Included in this set are 36 game cards which can be used individually, in partners, or in small groups. There is also an independent assignment for assessment or extra practice.
You can download this freebie at either of my stores:
Teachers Pay Teachers here
or Teachers Notebook here
I am linking up with Manic Monday at Classroom Freebies! Be sure to head over for even more freebies for your classroom!