I had so much fun swapping products the last time I participated that I was happy to join again with Melissa from
Jungle Learners
for her linky:
This time I swapped products with
Gina Coniglio
from Beach Sand and Lesson Plans.
I have been following her blog for at least a year now, so I knew she would have something amazing to choose from! Because we are just starting our geometry unit, I decided to try out her
Geometry Scoot Game.
I have used some of
her other scoot games,
so I knew this one would be a hit with my students as well.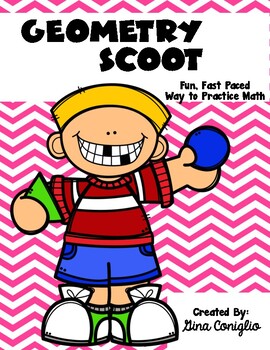 As I did geometry unit lesson planning, I decided that I would put this to use twice - as a pre and post test. This week we did the pre-test as an around the room activity. I taped the pieces around the room for the students to find.
Then the students walked around the room finding cards and writing their answers on their sheets.
I love how her scoot games get kids up and moving as they learn!
After we finished the pre-test I asked the students to tell me which problems they had the most difficulty with and we sorted them into categories.
In addition to the movement of this activity, I love that I was able to differentiate my math groups with it. The set covers the CCSS standards for 3-5th grade, so even my highs were challenged with this one. I hate when you give a pre-test and the high achievers in your class score a 100% before you even begin the unit. With this activity, my high achievers realized they had some learning to do! "Who would have known that there was more than one kind of triangle?" One of them said as we debriefed! LOL!
Would you like to try Gina's Geometry Scoot? You can enter to win below.
She is also having a 10% off sale on all of her scoot games this weekend, so head over and check them out!
Also, be sure to visit
Gina's blog where she is reviewing my Dear Mrs. LaRue unit.
Be sure to visit all of the other blogs who participated in the swap below for great ideas and inspiration! I am a visual person, so I love seeing the products in action!
You can enter to win
a Rafflecopter giveaway